Central Air vs. Heat Pumps: Which Is Better?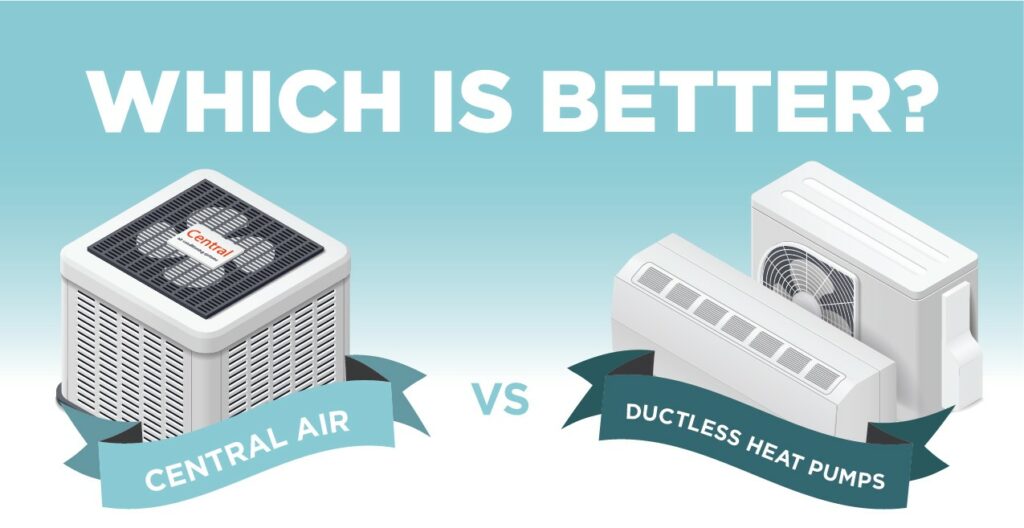 When it comes to keeping your home comfortable in the summer, you have several cooling system options. Should you choose a traditional central air conditioner, or go with an energy efficient heat pump? Find out which is best for your home!
What It Does
Air Conditioner
Cools only in the summer
Ductless Heat Pump
Heats & cools the home year-round
How It Works
Air Conditioner
Pulls hot air out of the home
The outdoor unit squeezes heat out of the refrigerant
The refrigerant becomes cold and is sent back into your house
Cold air is distributed throughout your house
Ductless Heat Pump
Functions a lot like an air conditioner does in the summer
Uses a similar but reverse process to heat your house in the winter
Energy Efficiency
Air Conditioner
The most efficient models have an efficiency rating of 18 to 21 SEER
Ductless Heat Pump
Many models have an efficiency rating of over 21 SEER for cooling and over 10 HSPF for heating
Utility Bill Savings
Air Conditioner
Save 20%–40% on cooling costs by upgrading to an energy efficient model
Ductless Heat Pump
Save about 50% on heating and cooling costs by switching to a heat pump system
Interested in upgrade your home's cooling system?
Our experts can help.
Vancouver: 360-836-5366 Portland, OR: 503-893-8243